Three French NGOs Challenge French International Surveillance
Paris, 3rd September 2015 — Today, the non-profit ISPs FDN and the FDN Federation as well as La Quadrature du Net announced the introduction of two legal challenges before the French Council of State against the Internet surveillance activities of French foreign intelligence services (DGSE). As the French government plans the introduction of a new bill on international surveillance, these challenges underline the need for a thorough oversight of surveillance measures.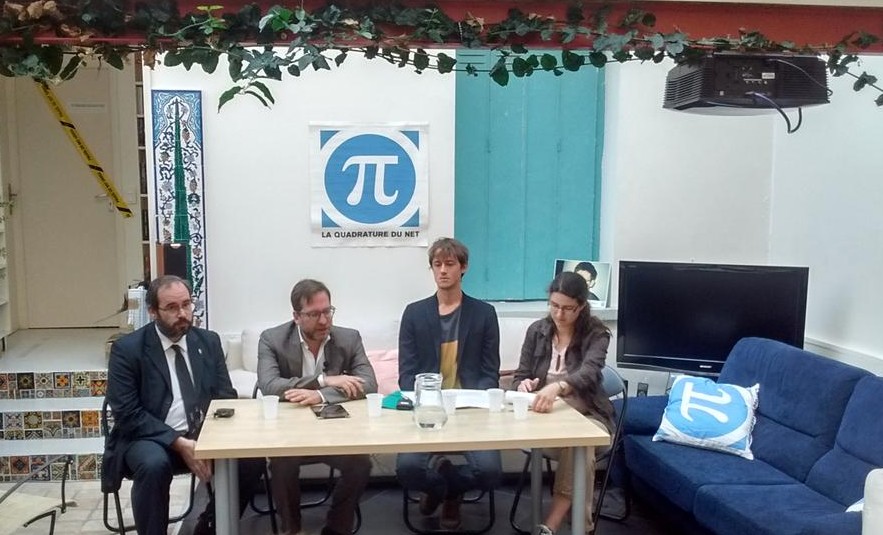 Press conference of 3rd September 2015
On Monday, with the assistance of law firm Spinosi-Sureau, La Quadrature du Net, FDN and FFDN brought legal action seeking a summary judgement and suspension against the unpublished decree regulating measures of the surveillance of international communications by the DGSE, secretly adopted in 2008. If this decree, revealed by the magazine l'Obs in July 2015 remains secret, its existence has not been refuted by the French government. What is known, however, is that is its designed to authorise the massive tapping by the French foreign intelligence services of Internet communications going to or coming from French territory.
The legal challenge focuses on two main points:
The fact that this decree is secret, automatically keeping away both citizens and members of the Parliament from knowing about it, which contradicts the jurisprudence of the European Court of Human Rights.
The fact that the French Constitutional Council's censorship of the provision on international surveillance (article 854-1 of the Interior Security Code voted in the Surveillance Law) reinforce the illegal nature of the decree, since it made clear that the legislative basis for such a decree should bring real and detailed safeguards.
The implementing decree adopted in April 2008 had no legislative basis and its unconstitutionality is confirmed by the French Constitutional Council's decision.
"Through these legal challenges, our organizations are denouncing the massive collection of Internet traffic data by French intelligence agencies, conducted outside of any legal framework or effective oversight mechanism. Just as the government announces a new bill on "international surveillance"1, this trial is a reminder that no one should be above the rule of law. The upcoming bill will have to break away from the logic of mass surveillance and provide a rigorous control that is compliant with international and European human rights standards, while ensuring transparency without which there cannot be any democratic control of the state," said Félix Tréguer, co-founder of La Quadrature du Net.
Brief for summary and suspensive judgement (fr) (pdf)

Brief for judgement as a matter of law(fr) (pdf)

1. This bill is supposed to patch the censorship of the French Constitutional Council of the article 854-1 created by the Surveillance Law