April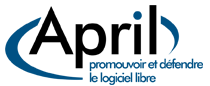 Founded in 1996, April is the main French advocacy association devoted to promote and protect Free/Libre Software.
April, made up of nearly 2 000 members (individuals, companies, and organizations), is a pioneer of Free Software in France. Since 1996, it is a major player in the field of Free Software.
Its aim : making Free Software more accessible for the general public, professionals and institutions, and thus more widespread. It also acts as a watchdog on digital freedoms, warning the public about the dangers of private interests keeping an exclusive stranglehold on information and knowledge.
The association has three full-time employees, one general delegate, an administrative assistant, and a person in charge of institutional relations. However, even with three full-time employees, the volunteer work is still very important, and represented around 3,000 hours of work in 2007.
Site : http://www.april.org