Big Brother Awards France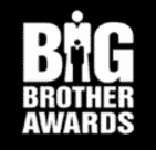 Launched by Privacy International in 1998 in London, this ceremony intends to draw public attention to privacy issues and related alarming trends in society, especially in data privacy. The Big Brother Awards are awarded yearly to authorities, companies, organisations, and persons that have been acting particularly and consistently to threaten or violate people's privacy, or disclosed people's personal data to third parties.
The Big Brother Awards are organised in around 15 countries in Europe, Asia, and North America. They are named after the George Orwell character Big Brother from the novel 1984, and obtain the moral support from Richard Blair, son of the famous novelist, under his real name Eric Blair.
The Big Brother Awards in France was organized for the first time in 2000, and is the result of the meeting between activists, social workers, journalists, lawyers, jurists, and privacy and civil liberties advocates. The organisation comprises a Committee collecting applications, and gathering a jury of about ten citizens.
From the first edition, Privacy International has had discussions with other organisations known for their fight in favor of fundamental freedoms, as the International Federation of Human Rights (FIDH), the Syndicat de la Magistrature (a magistrate trade-union), the GISTI (a French non-profit organization for human rights), the Syndicat des avocats de France, etc.