[TheRegister] Dob in naughty data slurps to top EU court, privacy groups urge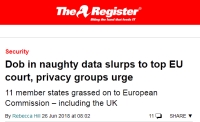 More than 60 privacy groups and activists have demanded that member states still engaging in blanket data retention of communications info – despite it being ruled unlawful – are referred to the EU's top court.
In an open letter (PDF) to the European Commission, the signatories refer to two landmark privacy judgments, in 2014 and 2016, which ruled invalid an EU directive that allowed states to require telcos to collect and retain communications data en mass.
Although this information – which includes traffic data on numbers called, IP addresses and location data – isn't the content of the communications, it is "no less sensitive", the 62 signatories argued. [...]
https://www.theregister.co.uk/2018/06/26/cjeu_member_states_unlawful_dat...