[Computing] GCHQ admits £1bn spend on cyber security 'hasn't worked'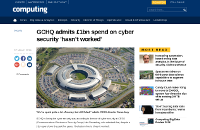 GCHQ is losing the cyber security war, according to director of cyber security at CESG (Communications-Electronics Security Group) Alex Dewedney, who admitted that, despite a £1bn spend over the past five years, "the bottom line is it hasn't worked". [...]
"We can't just pass information on threats to businesses and tell them to go and deal with it themselves," said Dewedney, who added that 90 per cent of UK enterprises suffered cyber security breaches last year.
Dewedney also criticised the UK government for "not... spending money on fixing legacy IT issues" that have left a situation that, he said, "is killing us". [...]
The problem is "not so much a money issue as it is a human resources issue", he said.
http://www.computing.co.uk/ctg/news/2449902/gchq-admits-gbp1bn-spend-on-...