Debunking the EU Commission's Lies About ACTA
Paris, January 30th, 2012 – The EU Commission is engaging in an all-out offensive to portray ACTA as normal trade agreement harmless to fundamental rights or access to knowledge. In several published documents, the Commission's attempts to impose ACTA onto the EU Parliament while silencing legitimate criticism. But these misrepresentations don't resist scrutiny.
As EU executive branch (EU Commission plus 22 Member States governments) officially signed ACTA1, the way is now open for its consideration by the European Parliament. Its 754 elected members now have an opportunity, during a process that will last for several months, to either accept or reject ACTA.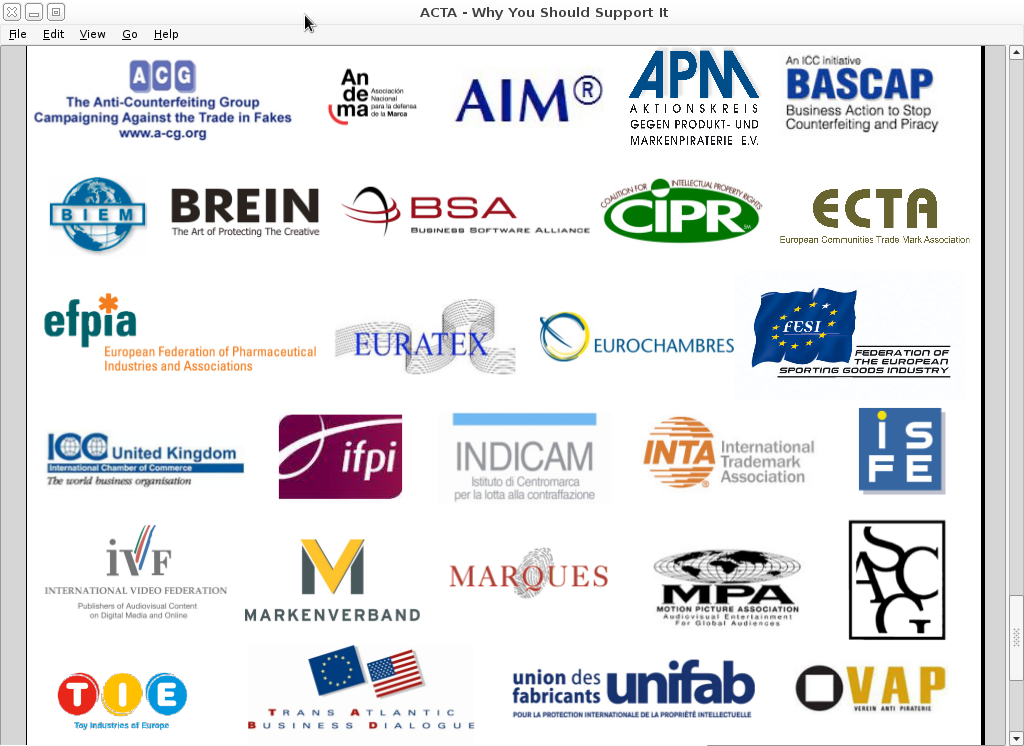 Members of the European Parliament (MEPs) are already under great pressure, not only from the copyright industry lobbyists, but also from the European Commission's "International Trade" directorate2, who negotiated the text in total opacity during 3 years. Citizens must contact the Members of the EU Parliament (MEPs) to denounce the Commission's infuriating lies, and urge them to ensure that the EU's democratic values will be preserved. MEPs must commit to working in their respective committees towards the rejection of ACTA.
"The EU Commission is plainly lying to the Members of the European Parliament by presenting ACTA as an acceptable agreement. By signing ACTA together with EU Member States, the EU Commission dismissed the legitimate concerns of thousands of citizens across Europe who have been protesting against ACTA in the past few days. Citizens must contact their elected representatives and remind them what ACTA is all about: circumventing democracy and hurting freedoms to protect the outdated business models of rent-seeking industries.", said Jérémie Zimmermann, spokesperson for La Quadrature du Net.
Download our analysis (in PDF) debunking the EU Commission's lies on ACTA.
ACTA is worse than SOPA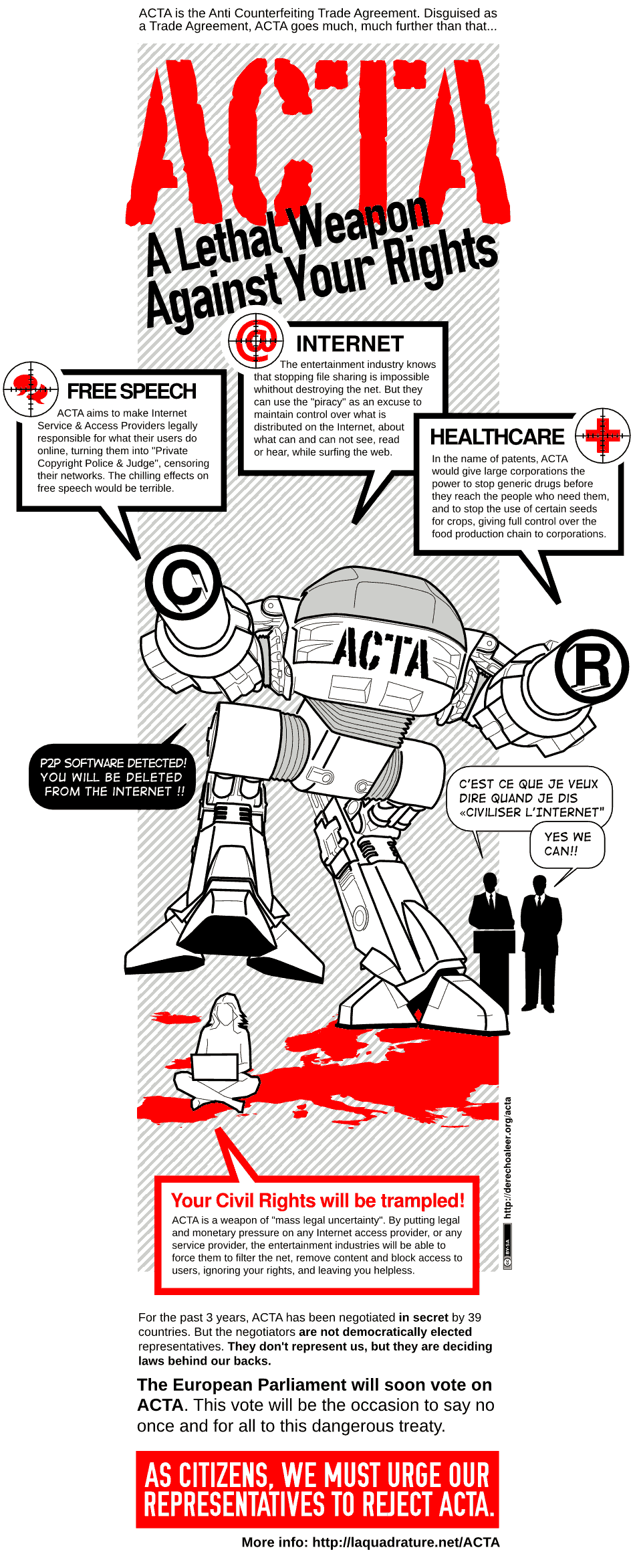 On its website, the EU Commission pretends that ACTA "is not SOPA". This is correct. In some important ways, ACTA is worse than SOPA. ACTA is the global blueprint for repressive laws such as SOPA:
See also La Quadrature's analysis of the final text of ACTA's digital chapter.
Debunking the EU Commission's "fact-sheet" on ACTA

In a document published on its website and circulating in the EU Parliament, the Commission conveys more lies about ACTA.
You can download the following analysis in PDF3.
1. "ACTA is important for the EU's external competitiveness, growth and jobs as well as to the safety of citizens"
2. "ACTA is a balanced agreement, providing adequate protection to sectors in need, while safeguarding the rights of citizens and consumers"
3. "ACTA is about adequately enforcing existing intellectual property rights, but does not create new rights"
4. "ACTA has a broad coverage, so as to protect all European creators and innovators, through a broad range of means"
Get in touch with Members of the EU parliament and make sure they know what ACTA is really about. Visit our our dedicated campaign page.
FFII has also drafted a detailed response to another EU Commission document on ACTA called "10 myths about ACTA".