[Wired] As Zuckerberg Smiles to Congress, Facebook Fights State Privacy Laws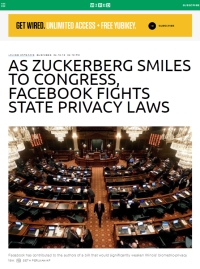 [...] Facebook pours millions of dollars into state and federal lobbying efforts, some of which oppose legislation designed to bolster privacy. The company has contributed to the campaigns of representatives who want to gut the Illinois privacy law referenced by Durbin, and it ponied up $200,000 to oppose a consumer privacy ballot initiative in California. Wednesday, shortly after Zuckerberg finished testifying in Washington, Facebook said it was no longer contributing to the group opposing the California measure.
"I'm sitting here watching Mark Zuckerberg say he's sorry and that Facebook will do better on privacy, yet literally as he testifies lobbyists paid by Facebook in Illinois and California are working to stop or gut privacy laws," says Alvaro Bedoya, a professor and the executive director of the Center on Privacy & Technology at Georgetown Law School. "If Facebook wants to do better on privacy, it needs to put its money where its mouth is, it needs to stop paying lobbyists to gut critical privacy initiatives in these states." [...]
https://www.wired.com/story/despite-zuckerberg-pledge-facebook-fights-st...