[ETtech] Net Neutrality is complicated: Wikipedia founder Jimmy Wales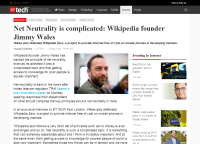 Wikipedia founder Jimmy Wales has backed the principle of net neutrality, even as he admitted it was a complicated topic and that getting access to knowledge for poor people is equally important. [...]
In an exclusive interview to ET NOW from London, Wales also defended Wikipedia Zero, a project to provide internet free of cost on mobile phones in developing markets.
"Wikipedia zero follows a very strict set of principles such as no money is ever exchanged and so on. Net neutrality is such a complicated topic, it is something that I am extremely passionate about and I think is incredibly important. And at the same time I think getting access to knowledge for poorest people of world is also very important. Sometimes those two things can be in tension and we have to be really careful about it. I think fundamental thing is that we maintain and open and free Internet," he said. [...]
http://tech.economictimes.indiatimes.com/news/internet/net-neutrality-is...