EU Parliament Must Stand Firm On Its Political Assessment of ACTA
Paris, April 10th 2012 - The European Parliament has decided not to refer ACTA to the EU Court of Justice, and will normally hold its final vote this summer, as originally planned. This coming week marks a new opportunity for EU citizens to engage with their elected representatives in Brussels, calling on them to move swiftly toward a thorough political assessment of ACTA.
The institutional face-off on ACTA procedure
The EU Commission is doing everything it can to save ACTA from rejection by engaging in an institutional face-off with the EU Parliament. Let's sum up:
Two weeks ago, the Parliament made clear that it would not refer ACTA to the Court of Justice and would vote on ACTA without delay.
A few days later, the EU Commissioner for Trade Karel De Gucht made public the text of its own referral to the Court, and urged the Parliament to "respect" the Court by waiting for its opinion anyway, which would take at least 18 months.
Of course, the Commission is not interested in knowing whether ACTA is compatible with EU law, or else it would have asked for the Court's opinion during the negotiations1.
"The Parliament must absolutely resist the pressure from the Commission and protect its prerogatives. The Members of the Parliament should not be distracted from the important work in committees on the political assessment of ACTA.", said Philippe Aigrain, co-founder of the citizen advocacy group La Quadrature du Net.
EU Parliament must proceed with political assessment of ACTA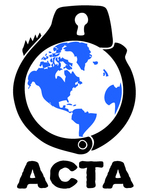 This week, besides two important hearings (April 11th and April 12th) in the EU Parliament, the different political groups will meet and discuss the working programmes of the committees working on ACTA:
Learn more about the ACTA procedure in the EU Parliament.