[Techdirt] EU Politicians Tell European Commission To Suspend Privacy Shield Data Transfer Framework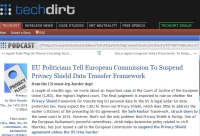 A couple of months ago, we wrote about an important case at the Court of Justice of the European Union (CJEU), the region's highest court. The final judgment is expected to rule on whether the Privacy Shield framework for transferring EU personal data to the US is legal under EU data protection law. Many expect the CJEU to throw out Privacy Shield, which does little to address the earlier criticisms of the preceding US-EU agreement : the Safe Harbor framework, struck down by the same court in 2015. However, that's not the only problem that Privacy Shield is facing. One of the European Parliament's powerful committees, which helps determine policy related to civil liberties, has just issued a call to the European Commission to suspend the Privacy Shield agreement unless the US tries harder :
« The data exchange deal should be suspended unless the US complies with it by 1 September 2018, say MEPs, adding that the deal should remain suspended until the US authorities comply with its terms in full. » [...]
https://www.techdirt.com/articles/20180614/03210140035/eu-politicians-te...