[European Business Organisation] Both MEPs and BEUC reject the Graduated Response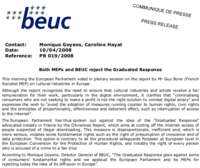 This morning the European Parliament voted in plenary session on the report by Mr Guy Bono (French
Socialist MEP) on cultural industries in Europe.
Although the report recognises the need to ensure that cultural industries and artists receive a fair remuneration for their work, particularly in the digital environment, it clarifies that "criminalising consumers who are not seeking to make a profit is not the right solution to combat digital piracy" and expresses the wish to "avoid the adoption of measures running counter to human rights, civic rights and the principles of proportionality, effectiveness and deterrent effect, such as interruption of access to the internet".
The European Parliament has thus spoken out against the idea of the "Graduated Response"
advocated notably in France by the Oliviennes Report, which aims at cutting off the internet access of people suspected of illegal downloading. This measure is disproportionate, inefficient and, which is more serious, violates some fundamental rights such as the right of presumption of innocence and of data protection. This option is contrary to all the procedural safeguards foreseen at European level in the European Convention for the Protection of Human Rights, and notably the right of every person who is accused of a crime to a fair trial.
According to Monique Goyens, Director General of BEUC, "The Graduated Response goes against some of consumers' fundamental rights and we applaud the European Parliament and its MEPs for rejecting today the idea of its diffusion in Europe".
http://www.beuc.eu/Content/Default.asp?PageID=836&LanguageCode=en