[TheGuardian] Net neutrality: why are Americans so worried about it being scrapped ?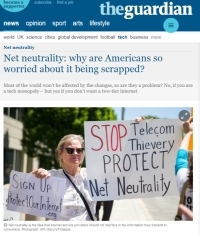 Most of the world won't be affected by the changes, so are they a problem ? No, if you are a tech monopoly – but yes if you don't want a two-tier internet. [...]
On the other side of the battle are companies relying on the internet to connect to customers. Their fear is that in an unregulated internet, ISPs may charge customers extra to visit certain websites, demand fees from the sites themselves to be delivered at full-speed, or privilege their own services over those of competitors.
The fear is well-founded. Outside the US, where net neutrality laws are weaker and rarely enforced, ISPs have been experimenting with the sorts of favouritism that a low-regulation environment permits. [...]
https://www.theguardian.com/technology/2017/nov/22/net-neutrality-intern...