[TheGuardian] Russia passes 'Big Brother' anti-terror laws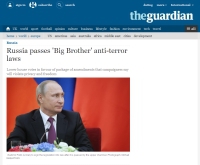 Russia's parliament has passed harsh anti-terrorism measures that human rights campaigners including the NSA whistleblower Edward Snowden say will roll back personal freedoms and privacy [...].
The legislation obliges telephone and internet providers to store records of all communications for six months and all metadata for three years, as well as help intelligence agencies decode encrypted messaging services. Telecoms firms have complained that users rather than providers typically possess the encryption keys, and that storing this huge amount of information would require expensive new infrastructure [...].
Tanya Lokshina, the Russia programme director for Human Rights Watch, called it an attack on freedom of expression, freedom of conscience and the right to privacy that gives law enforcement unreasonably broad powers;[...].
https://www.theguardian.com/world/2016/jun/26/russia-passes-big-brother-...