[InfoSecurity] Does ACTA live on in the EC IPRED Directive?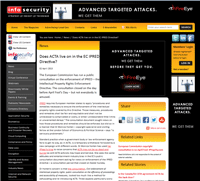 The European Commission has run a public consultation on the enforcement of IPRED – the Intellectual Property Rights Enforcement Directive. The consultation closed on the day before April Fool's Day – but not everybody is amused. [...]
Dr Horten's concern is that the consultation, Civil enforcement of intellectual property rights: public consultation on the efficiency of proceedings and accessibility of measures, looked too much like a method for obfuscating and re-introducing ACTA. Three aspects particularly worry her: length, viewpoint and content. Firstly, she says, "it is such a long, complex document, that only a corporate lawyer will have the skill and the will to complete it."
Secondly, it is written almost entirely from the perspective of the entertainment industry. "All of the questions are addressed to rights-holders and ask only for their viewpoint," she says. "There is no place for non-rights-holders, who could be ISPs, to write a response." So when a series of questions asks respondents if they have been able to successfully obtain information from 'intermediaries', it's "asking major rights-holders if they've been able to obtain names of alleged infringers from the ISPs." It does not allow the ISPs to offer an alternative viewpoint. [...]
http://www.infosecurity-magazine.com/view/31565/does-acta-live-on-in-the...