[ITWeek] EU votes to protect file sharing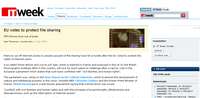 The parliament was voting on the Bono Report on the Cultural Industries, which examined the development of culture and intellectual property in the Union. Swedish MEP Christofer Fjellner and the former Prime Minister of France, Michel Rocard put in a last minute amendment saying that a three strike rule would:
"[conflict] with civil liberties and human rights and with the principles of proportionality, effectiveness and dissuasiveness, such as the interruption of Internet access".
The amended bill squeaked through, 314 in favour to 297 against, against a background of heavy lobbying from both sides.
"The European Parliament's file-sharer friendly statement is well timed," said Karl Sigfrid, a Swedish national MP, in his blog.
"France will soon get the opportunity to chair the EU, and one priority will be to force European ISPs to cut the internet connection of anyone illegally downloading a song or a movie. If insisting on his plans, Sarkozy now faces an uphill battle."
http://www.itweek.co.uk/vnunet/news/2214169/eu-votes-protect-file-sharing