Join the Giant Distributed ACTA Protest All Over Europe!
Paris, February 11th, 2012 - The co-founders of La Quadrature du Net1 and many of its contributors will join the giant distributed ACTA protest that is taking place in hundreds of locations all over Europe2.
La Quadrature du Net designed a flyer for the occasion, which has been translated by volunteers in 10 languages3. It is meant to be shared, translated and remixed so as to inform our fellow citizens about the dangers of ACTA for freedoms online and democracy.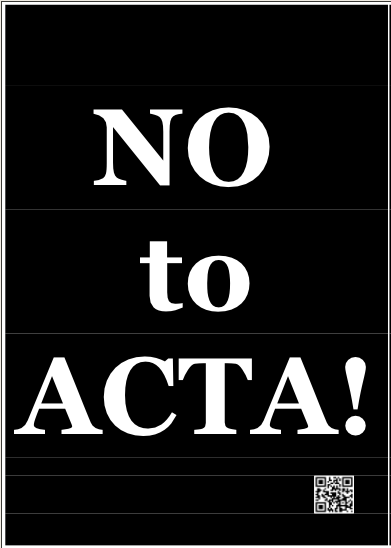 Don't let a secret treaty put our Internet under control of major companies!
ACTA is:
An agreement secretly negotiated by 39 countries to bypass international organizations and democracy.
Privatizing copyright repression by pushing Internet actors to control our communications and censor the network.
Criminal sanctions for cultural practices, targeting the means for non-commercial sharing.
Setting in stone 15 years of "war against sharing" repressive schemes, preventing copyright reform in favour of the public and artists.

We must act!
The European Parliament still has a chance to reject ACTA!

1. The Co-founders will participate to the Paris part of the protest.