Latest comic strip of the week - week 24 - "Empty box" - LL de Mars
LL de Mars again ! Here is his vision of an ideal, trustable, computing...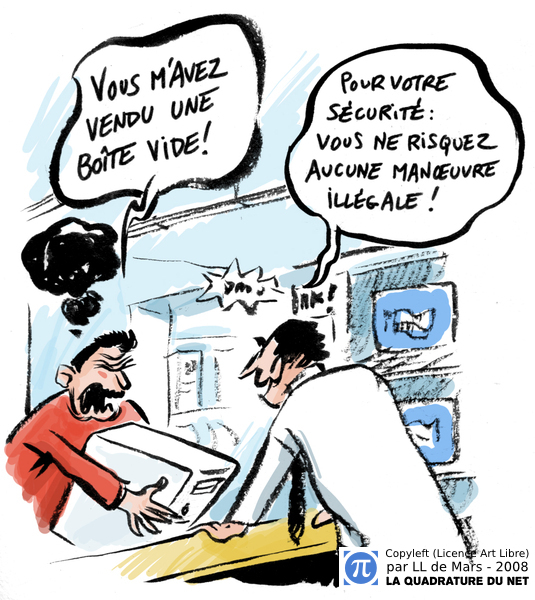 "'You sold me an empty box!!'
'For your safety : you cannot do anything illegal.'"
Copyleft: You can reuse, copy and modify this drawing. You can redistribute your modifications under the terms of the Free Art Licence
Display the latest strip on your website !
If you want to display the latest strip on your website, put the following code :
If you want to display this strip on your site, copy the following code :
<a title="La Quadrature du Net" href="http://www.laquadrature.net" target="_blank"><img style="border: 2px solid #DDD" src="http://www.laquadrature.net/files/lldemars/boitevide.jpg" alt="You sold me an empty box!! \ For your safety : you cannot do anything illegal. "Empty box" by LL de Mars - Copyleft (Free Art Licence)" title="You sold me an empty box!! \ For your safety : you cannot do anything illegal. "Empty box" by LL de Mars - Copyleft (Free Art Licence)"></a>