Make Your Voice Heard Against a "Clean Internet"
Paris, Sept. 4th 2012 - The European Commission is holding a consultation -ending on the 5th 11th of September- about "A clean and open Internet". Citizen input is critically needed to ensure that freedom of expression is protected, against the attempts of many lobbies to impose draconian repressive procedures to censor online content.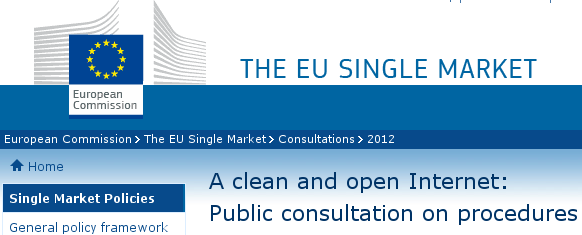 Behind this worrying vocable is a biased (and boring)
online questionnaire
aiming at collecting opinions about the application of the
"online service" directive
. In particular, the consultation relates to the procedure that hosting and other service providers should follow for preventing access to online content.
This "notice and takedown" procedure is regularly abused, especially by the copyright industries who would like to see it extended as a "notice and staydown", in which operators would have to take radical or preventive measures (like blocking of access to content, preventive filtering of communications, etc.), with a tremendous impact on freedom of communication online. An extension of this procedure would mean that such measures could be deployed for a wide range of scenarios (copyright infingement, defamation, slander, etc.) and will lead to the generalisation of privatized monitoring and restriction of online communications, such as pushed by ACTA.
Citizens and independant hosting and service providers must answer this consultation to ensure that freedom of communication online will be protected. La Quadrature du Net invites them to answer the EU Commission in order to affirm that:
In political regimes abiding by the Rule of Law, only a judicial judge shall be able to determine an infraction and order sanctions with an impact on freedom of communication
The "notice and action" procedure must be specified and framed so that it is only used in some marginal cases
Users must always have the ability to "counter-notice" in order to claim their freedom of communication, and that ultimately a judicial judge has to decide whether their content is infringing.
Companies and individuals abusing the "notice and takedown" procedure must be exposed and punished.
La Quadrature du Net provides for this purpose a web-dossier on the "Online Service" directive, its own response to the consultation as well as an outline of the procedure it recommends.
Submit your own response to the "Clean Internet" consultation.