[Motherboard] Canada Just Ruled to Uphold Net Neutrality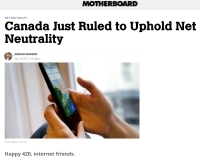 On Thursday afternoon, the Canadian Radio-television and Telecommunications Commission (CRTC), the country's federal telecom regulator, dropped a bombshell ruling on the status of net neutrality—the principle that all web services should be treated equally by providers. And, blessedly, it's good news.
The CRTC ruled that "[internet] service providers should treat data traffic equally to foster consumer choice, innovation and the free exchange of ideas," a CRTC news release states. What this means is that service providers won't be able to privilege certain services over others—say, YouTube or Apple Music—by letting you use them without dinging your data plan. This is a practice generally known as "zero-rating" or differential pricing. [...]
The CRTC's decision is welcome news as its sister organization in the US, the Federal Communications Commission (FCC), is right now starting to roll back some of its previous commitments to net neutrality. [...]
https://motherboard.vice.com/en_us/article/canada-just-ruled-to-uphold-n...