Musique Libre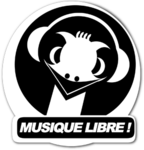 The non profit organization Musique libre aims to :
support and promote music creation and independent distribution,under free licences system.
fight for individual rights management, in front of civil companies, events organisers, labels and distributors.
in this new digital era, inform artists and the public about emergent distribution channels and use of musical works. And inform also about the business that is thus generated.
Dogmazic.net is the new web site of the Musique libre organisation. It's not only thousands of free ogg's and mp3's to download, it's an invitation for sharing within the libre music philosophy.
Site :http://www.dogmazic.net