[Arstechnica] Fallout from EU-US Safe Harbor ruling will be dramatic and far-reaching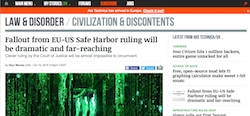 Article that summarises the effects of the CJEU (Court of Justice of the European Union) on the Safe Harbour agreement. In particular, it points out that since the court makes appeal to the EU Charter of Fundamental Rights, any future agreements, in particular TTIP (TAFTA) or TISA, would have to take these into consideration.
http://arstechnica.com/tech-policy/2015/10/fallout-from-eu-us-safe-harbo...