Online services directive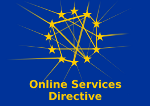 The EU directive on "online services" (or "eCommerce directive"), adopted in 2000, covers many topics. Most importantly, the directive protects freedom of communication and privacy, by granting Internet access providers, hosting services as well as other online publishing platforms the status of simple "technical intermediaries". As such, these Internet actors cannot be forced to monitor their users' communications, or be held liable for their users' activities.
Under the pressure of various lobbies, these crucial principles are being undermined. Technical intermediaries are increasingly compelled, through legislative measures or case law, to implement systems for taking down content or filtering communications, in gross contradiction with freedom of expression and privacy. In the face of these threats, the protective framework created by the "online services" directive must be reasserted and further detailed, so as to ensure a presumption of legality for any online publication and to protect the right to a fair trial.
Timeline
Future
Initially planned for 2012 - EU Commission will collect fact and figures on notice-and-takedown practices across the EU in view of an impact assessment.
Past
Dossier
La Quadrature du Net's response to the EU Commission's consultation on the Online Services Directive ("e-Commerce").