Qwartz Electronic Music Awards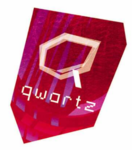 To present and make heard the many facets of the contemporary electronic and digital music scene; give people the opportunity to enhance their knowledge of this music and enjoy it to the full; support the creativity and cultural diversity that independent production can ensure : these are the aims of the Qwartz Electronic Music Awards.
2 million people visited the website in the course of the previous editions. They were from 80 countries in Asia, North and Central America and the Caribbean, South America and Europe, including 25% of visitors from France. A gala awards ceremony closes each edition and is held in Paris (Cirque d'Hiver Bouglione) at the end of March. Participation of independent artists and labels in the Qwartz Electronic Music Awards is free of charge. A call for entries is made throughout the world by e-mail to the 10,000 labels listed by Qwartz.
Site : http://www.qwartz.org