Spanish internet users go to the front line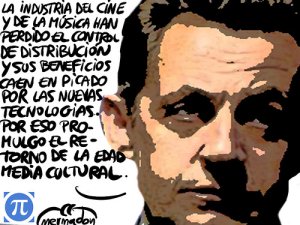 In Spain, the project of Nicolas Sarkozy to extend at European level flexible response (three strikes approach) makes a noise. The spanish press informs the public about the emergence of an international opposition. El Pais, 20minutos, and others published articles about La Quadrature du Net.
It is no accident as the powerful Asociación de Internautas, a spanish association which defend Internet users and actively supports La Quadrature du Net, issued a press release summarizing the problem.
Their conclusion is : « The battle will be tough, the good news is that for the first time, organizations over the world join forces at the request of french Internet users, to face and defend civil liberties threatened. As it already happened in the past century, the battles for freedom will take place first in France. »
Spanish people also spontaneously contact us to support. Like Mermadon, a Spanish cartoonist pointing the medieval side of the project of Nicolas Sarkozy.
Y Viva España!
---
Quelques retombées presse et web espagnoles :
http://www.elpais.com/articulo/internet/L/Internet/Sarkozy/elpeputec/200...
http://www.20minutos.es/noticia/374346/0/internautas/contra/sarkozy/
http://www.comfia.info/noticias/41579.html
http://www.cadenaser.com/tecnologia/articulo/l-internet-sarkozy/csrcsrpo...
http://www.discapnet.es/Discapnet/Castellano/Actualidad/Noticias/Linea%2...
http://www.bottup.com/index.php?option=com_content&task=view&id=3101&Ite...
http://www.arboldenoticias.com/content/view/1802/44/
http://www.canarias7.es/articulo.cfm?Id=94064
http://www.bandaancha.st/weblogart.php?artid=5615
http://meneame.net/story/asociaciones-internautas-unen-contra-plan-sarkozy
http://mangasverdes.es/2008/04/30/internet-en-pie-contra-el-modelo-sarkozy/