[TheAtlantic] Your Browsing History Alone Can Give Away Your Identity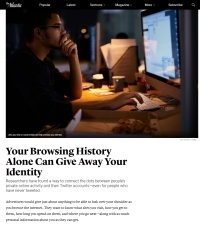 Researchers have found a way to connect the dots between people's private online activity and their Twitter accounts—even for people who have never tweeted. [...]
Companies that compile user profiles generally do so pseudonymously: They may know a lot of demographic details about you, but they don't usually connect your behavior to your individual identity. But a group of researchers at Stanford and Princeton developed a system that can connect your profile to your name and identity, just by examining your browsing history.
When the team tested the technique on 400 real people who submitted their browsing history, they were able to correctly pick out the volunteers' Twitter profiles nearly three-quarters of the time. [...]
https://www.theatlantic.com/technology/archive/2017/02/browsing-history-...