[TheIntercept] Appeals Court Delivers Devastating Blow to Cellphone-Privacy Advocates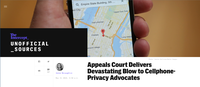 Courts across the country are grappling with a key question for the information age: When law enforcement asks a company for cellphone records to track location data in an investigation, is that a search under the Fourth Amendment?
By a 12-3 vote, appellate court judges in Richmond, Virginia, on Monday ruled that it is not — and therefore does not require a warrant. [...]
Research clearly shows that cell-site location data collected over time can reveal a tremendous amount of personal information — like where you live, where you work, when you travel, who you meet with, and who you sleep with. And it's impossible to make a call without giving up your location to the cellphone company. [...]
https://theintercept.com/2016/05/31/appeals-court-delivers-devastating-b...