[TheVerge] FCC chairman says net neutrality was a mistake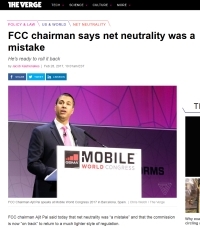 FCC chairman Ajit Pai said today that net neutrality was "a mistake" and that the commission is now "on track" to return to a much lighter style of regulation.
"Our new approach injected tremendous uncertainty into the broadband market," Pai said during a speech at Mobile World Congress this afternoon. "And uncertainty is the enemy of growth."
Pai has long been opposed to net neutrality and voted against the proposal when it came up in 2015. While he hasn't specifically stated that he plans to reverse the order now that he's chairman, today's speech suggests pretty clearly that he's aiming to. [...]
http://www.theverge.com/2017/2/28/14761510/fcc-chairman-ajit-pai-says-ne...