[TheVerge] US Senate votes to let internet providers share your web browsing history without permission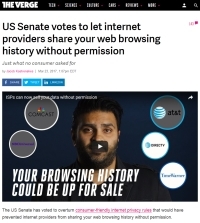 The US Senate has voted to overturn consumer-friendly internet privacy rules that would have prevented internet providers from sharing your web browsing history without permission.
The privacy rules, passed last year by the FCC, required internet providers like Comcast, Verizon, and AT&T to get each customer's permission before sharing personal information like which websites they visit. But internet providers want to be able to sell that data and use it to target ads, so they've been vocal about opposing the rules since around the time President Trump took office. [...]
"This resolution is a direct attack on consumer rights, on privacy, on rules that afford basic protection against intrusive and illegal interference with consumers' use of social media sites and websites that often they talk for granted," Senator Richard Blumenthal (D-CT) said in the Senate today ahead of the vote. [...]
http://www.theverge.com/2017/3/23/15026666/senate-broadband-privacy-rule...