[WashintonPost] It's begun: Internet providers are pushing to repeal Obama-era privacy rules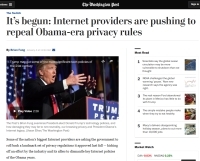 Some of the nation's biggest Internet providers are asking the government to roll back a landmark set of privacy regulations it approved last fall — kicking off an effort by the industry and its allies to dismantle key Internet policies of the Obama years.
In a petition filed to federal regulators Monday, a top Washington trade group whose members include Comcast, Charter and Cox argued that the rules should be thrown out. [...]
Information such as your Web browsing history, your geolocation logs and even the content of your emails offer service providers a rich source of potential advertising revenue. That data, along with your health and financial information, can also be sold to marketers and data brokers interested in building a profile of you as a consumer. The FCC's rules restricted Internet providers' ability to use and share this information, in what privacy advocates hailed as a historic victory. [...]
https://www.washingtonpost.com/news/the-switch/wp/2017/01/04/its-begun-c...