[Wired] Why the FCC's Plans to Gut Net Neutrality Just Might Fail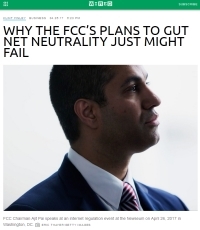 It's official : the country's top regulator of the internet wants to end net neutrality. Specifically, Federal Communications Commission chair Ajit Pai plans to repeal changes that gave the agency the authority to enforce net neutrality protections—that is, rules requiring internet service providers to treat all internet traffic equally. But he won't likely be able to do so without a big legal fight. [...]
The FCC will vote on—and given its Republican majority, likely pass—the proposal during an open meeting May 18. But that will only start what promises to be a lengthy battle for the future of net neutrality. To truly torpedo the requirements, Pai will have to make the case that he's doing so for good reason.
A 1946 law called the Administrative Procedure Act bans federal agencies making "capricious" decisions. The law is meant, in part, to keep regulations from yo-yoing back and forth every time a new party gained control of the White House. The FCC successfully argued in favor of Title II reclassification in federal court just last summer. That effort means Pai might have to make the case that things had changed enough since then to justify a complete reversal in policy. [...]
https://www.wired.com/2017/04/fccs-plans-gut-net-neutrality-just-might-f...