[TheVerge] New Toronto Declaration calls on algorithms to respect human rights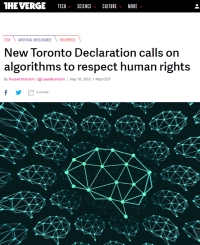 Today in Toronto, a coalition of human rights and technology groups released a new declaration on machine learning standards, calling on both governments and tech companies to ensure that algorithms respect basic principles of equality and non-discrimination. Called The Toronto Declaration, the document focuses on the obligation to prevent machine learning systems from discriminating, and in some cases violating, existing human rights law. The declaration was announced as part of the RightsCon conference, an annual gathering of digital and human rights groups.
" We must keep our focus on how these technologies will affect individual human beings and human rights, " the preamble reads. " In a world of machine learning systems, who will bear accountability for harming human rights ? "
The declaration has already been signed by Amnesty International, Access Now, Human Rights Watch, and the Wikimedia Foundation. More signatories are expected in the weeks to come. [...]
https://www.theverge.com/2018/5/16/17361356/toronto-declaration-machine-...