[ArsTechnica] Anti-innovation: EU excludes open source from new tech standards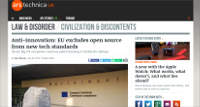 As part of its Digital Single Market strategy, the European Commission has unveiled "plans to help European industry, SMEs, researchers and public authorities make the most of new technologies." In order to "boost innovation," the Commission wants to accelerate the creation of new standards for five buzzconcepts: 5G, cloud computing, internet of things, data technologies, and cybersecurity. [...]
"Open" is generally used in the documents to denote "open standards," as in the quotation above. But the European Commission is surprisingly coy about what exactly that phrase means in this context. It is only on the penultimate page of the ICT Standardisation Priorities document that we finally read the following key piece of information: "ICT standardisation requires a balanced IPR [intellectual property rights] policy, based on FRAND licensing terms."
It's no surprise that the Commission was trying to keep that particular detail quiet, because FRAND licensing—the acronym stands for "fair, reasonable, and non-discriminatory"—is incompatible with open source, which will therefore find itself excluded from much of the EU's grand new Digital Single Market strategy. That's hardly a "balanced IPR policy." [...]
That de facto exclusion of open source from this major new EU initiative is shocking, but not entirely unexpected. The European Commission has been steadily moving to marginalise open source for over a decade. [...]
http://arstechnica.co.uk/tech-policy/2016/04/anti-innovation-eu-excludes...