[Arstechnica] Europol's online censorship unit is haphazard and unaccountable says NGO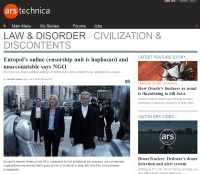 Europol's Internet Referral Unit (IRU) celebrated its first birthday at the weekend, but civil liberties organisations are worried that it goes too far in its efforts to keep the Web free from extremist propaganda.
The IRU has been up and running since July 2015 as part of the European Counter Terrorism Centre (ECTC) in the Hague. The unit is charged with monitoring the Internet for extremist propaganda and referring "relevant online content towards concerned Internet service providers" in particular social media. Much was made of how the IRU could "contact social network service provider Facebook directly to ask it to delete a Web page run by ISIS or request details of other pages that might be run by the same user" [...].
However AccessNow a global digital rights organisation said Europe's approach to dealing with online extremism is "haphazard, alarming, tone-deaf, and entirely counter-productive" [...].
http://arstechnica.com/tech-policy/2016/07/europol-iru-extremist-content...